Suicide prevention roadshow to help people step out of the darkness
|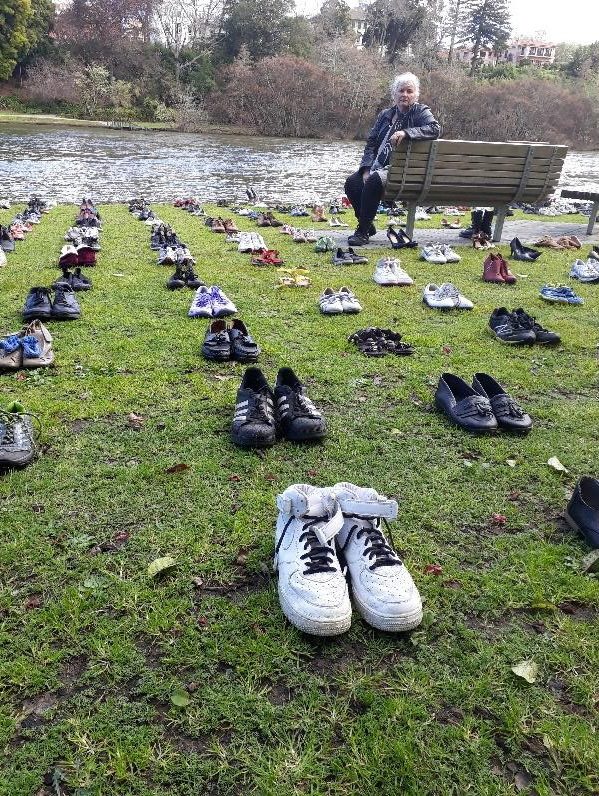 Jane Stevens sits on a bench placed at the grassy edge of the Waikato River, surrounded by 606 pairs of shoes. Among them are those of her son Nicky who, like hundreds of others each year in New Zealand, took his own life.
The former Wintec student's name is etched in a gold plaque, on the bench that commemorates where he was found after his death.
It is a peaceful spot, but not today.
Today is hard.
Today is when the Yes, We Care Suicide Prevention Roadshow stops in Hamilton, on its way to the steps of parliament to present a petition demanding Government invests more in mental health resources and awareness.
The roadshow started in Bluff on August 25, but this stop holds the most meaning for Stevens.
'Today was the hardest of the days. But this is the most powerful because to be here in this place, with other bereaved family, I feel close to my son… as hard as it is to see all those empty shoes, it is worth it because we are spreading the message that this is not ok, this can't keep happening.'
Dozens of people joined Stevens and her partner Dave Macpherson to stand before the shoes, donated by families of those who have taken their own lives. The shoes range from a child's pink sandals to a workman's steal toed boots. They are there to represent a simple but powerful message: put yourself in the shoes of someone with depression and help lift the stigma with understanding.
When the roadshow started, there were 579 pair of shoes to display, but on August 28 the New Zealand Chief Coroner released new figures for 2016-17 that bumped the number up to 606.
'There shouldn't be any shoes here,' Stevens said. 'The government is failing them. This [roadshow] makes us feel like we are doing something.'
The latest statistics show that the younger demographic, like Nicky, is again the largest represented.
Nicky had been suffering from spikes in his depression while he was studying and Stevens said the pressure on students could be enormous.
'They are fresh out of home and having to learn how to be out in the world, away from their families. It is a stressful time and can be hard for some. They need support. They need to know there are people who will listen and advocate for whanau who are suffering.'
Wintec Safety and Wellbeing manager, Katria Raffin, agreed, saying that their 18,000 students had to deal with pressure from not only themselves but their families and society too.
This could lead to depression, anxiety, self-harm and suicides, particularly among males under 25.
Wintec has two on-site counselors available, but Raffin said the unwarranted shame of mental health issues kept many people silent.
'The difficulty is that they have to be willing to talk to us, but there is a lot of stigma,' she said.
'Only about 5 per cent of the students we see are coming to us themselves, the other 95 per cent are referred by staff. They see these students all the time and they can see if there are changes in their behaviour, or sometimes students talk to them rather than anyone else.'
Wintec tutors have been given training on how to spot possible mental health issues among their students, and how to support them, Raffin said.
This support was not available when Nicky was at Wintec in 2014, Stevens said, but she hopes it will make a difference for others.
'[Students] are terrified and embarrassed to ask for help, but they don't need to be…there is no shame in needing support.'
WHERE TO GET HELP
Wintec Safety and Wellbeing department manager, Katria Raffin 027 494 1261 or katria.raffin@wintec.ac.nz
Lifeline (open 24/7) – 0800 543 354
Depression Helpline (open 24/7) – 0800 111 757
Healthline (open 24/7) – 0800 611 116
Samaritans (open 24/7) – 0800 726 666