Opportunities Party focuses on finances at Hamilton Roadshow
|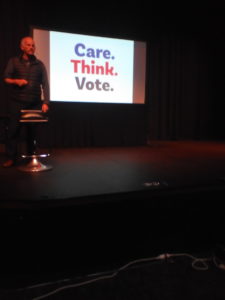 Talking dollars and cents was Gareth Morgan's focus as The Opportunities Party Roadshow stopped for Thursday night at the Clarence Street theatre.
Party leader Morgan laid his position out to an audience of around 60 punters, especially his concerns over the current state of the economy.
Morgan told the audience his concerns had to do with, "a lot of people invest[ing] in areas where there are tax breaks as opposed to economic return".
He also sought to explain how he would fund The Opportunity Party's most public policy proposal, the Universal Basic Income of $200 a week to 18 to 23-year-olds, and simplify taxes at the same time. The idea he offered was to tax everyone in New Zealand, including foreign investors, at 1.5 percent of the total of a person's assets, minus debts.
After estimating that the average house price in Hamilton was $600,000, Morgan said: "If I feed that through my matrix I end up with an extra 11 billion dollars."
Hamilton resident Arthur Douglas, 31, said he he had listened carefully to morgan's plan. "He certainly sounds like he knows what he's doing, even if I don't know the numbers," Douglas said.
In a easy-going meeting, most of the audience, judging by their questions, appeared in favour of Morgan's plan. A minority saw his policies as a regression with one audience member commenting: "He's Robert Muldoon all over again."
Morgan's parting words were that for the elections to mean something, people needed to vote. "Even if you have to choose the least worst of a bad lot."
Donna Pokere-Phillips is The Opportunity Party's local nominee, standing in the Hamilton West electorate.