The Viper looks to strike at XFC 30
|
Hamilton-based mixed martial artist Matt "The Viper" Vaile, is set to defend his welterweight championship at XFC 30 this Saturday in Brisbane.
With a professional record of six wins and one loss, Vaile is confident of a win against fellow Kiwi Brogan Anderson after he split his training camp for this fight between Phuket Thailand and Hamilton.
"I have a lot of mutual respect for him, he's a very strong guy who uses a lot of wrestling so I've been working on those factors to benefit me in the fight," Vaile said.
"If I can keep it standing, and keep him at distance I can see myself getting the knockout, possibly in the second round."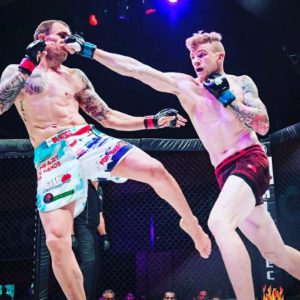 With all of his wins coming by way of knockout or submission, Vaile has only gone to the judges' scorecards once, which was his first professional loss against top Australian welterweight Benny Alloway.
"I was a little naive about that one, but at the time I wasn't going to pass up a fight with one of the top ranked welterweights around," Vaile said.
"It's definitely a fight I want to get back, because I know what adjustments I'd make to get that win, and I think it would definitely push me towards the UFC."
The Ultimate Fighting Championship (UFC) is the world's top MMA promotion, and with their recent signing of Vaile's training partner Luke Jumeau, Vaile is motivated to do the same.
"It was awesome news with Luke, because we all want to help him perform at 100% and make an impact, and him getting in has opened up a lot of doors for the rest of us," Vaile said.
"If I get a couple more first round knockouts, I think I definitely have a chance of making it to the UFC."