Melville United's Academy aims to forge future stars
|
Illuminating Gower Park on Monday nights are not just the flood lights around the field, but the talented set of players with dreams of becoming the best.
Led by coaches Sam Wilkinson and Michael Mayne, the youngsters train weekly after school with the hopes of taking their football to the very top.
The Melville United football programme started in January this year, with the hopes of providing youth around the Waikato a pathway for their football.
"Michael and I set the Academy up because we believed there was a need for an elite level coaching programme in the Waikato," said Wilkinson.
"It's about grouping the best players and it's about providing regular elite level coaching for those best players."
Melvilleā€™s academy is open for any player to come and look to push their game further. The programme includes video analysis, physical development and learning plans.
The academy currently has 30 under 14 players in its ranks with a goal of adding an under 12 and under 16 group in the next year.
The players learn different skills, with a theory approach involved at times.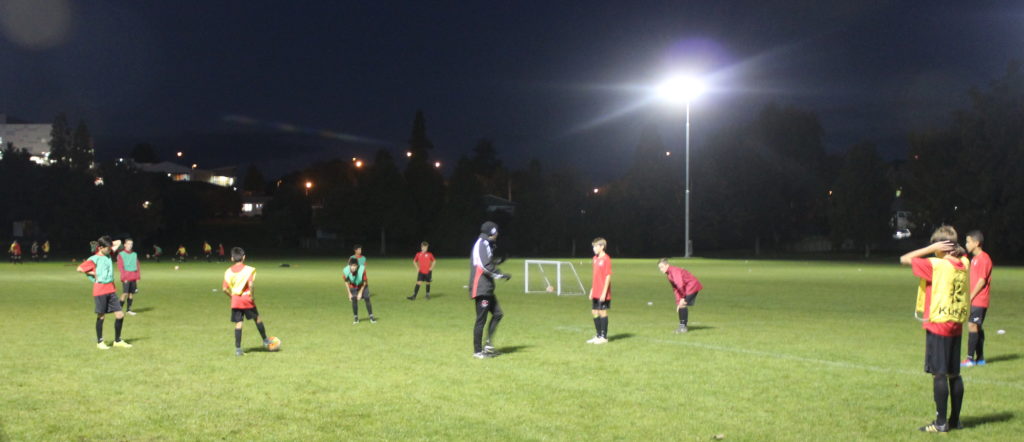 On the opening session of term 2, the youngsters are split into two teams, red bibs versus green bibs. The session has a focus on running into space off the ball and players developing their passing game, while the other team must pressure them into mistakes.
Aarun Lim, a member of the academy and Melville United, believes that it is the way the academy treats them that makes it successful.
"We all feel like professionals training in this academy," said Lim, 13.
"I think it is amazing, the coaches are very intelligent and we work well together, I definitely enjoy training the most."
The players have the chance to showcase their skills on Sundays, with the academy taking part in games against teams around the region.
The long term goal for each player is simple, to become a professional footballer and reach the world stage.
"I'd like to take my football to the English Premier League, that is where I'd love to play," said Josh Tollervey, 12, another player from the academy and Melville United.
"My favourite club is Southampton, Dad is from there."
While some look up to the likes of Lionel Messi, Tollervey is loyal to his team, naming Southampton defender Virgil van Dijk his favourite player.
"I love him he's a good player."