Māori Surf Nationals not all about the competition
|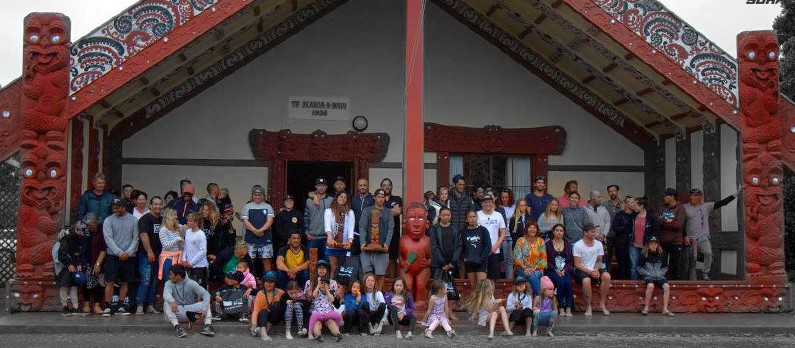 Aotearoa's top Māori surfers returned to Taranaki for the Aotearoa Māori Surfing Titles on Labour Weekend, hosted by the Waitara Bar Board Riders Club.
This event, which was first held in Taranaki in 1993, is held in high regard by surfers nationally and has unearthed and nurtured a large number of young talent from around the country.
The competition started with a powhiri and hangi at Owae Marae in Waitara on Friday evening, followed by two intense days of surfing over 10 different categories, and concluded with a poroporoaki (farewell) at the marae on the Sunday evening.
However, the Māori Surfing Titles is more than just a keenly contested surfing competition, the event itself focuses around kotahitanga (being as one), Whanaungatanga (kinship), and Manaakitanga (hospitality, generosity and kindness), something that no other surf event offers.
The big winners were local girl and favourite Zhana Hutchieson (Te  Ātiawa), who had two impeccable rides to win the Open Women's title to go along with the Under-18 girls she had won earlier in the contest.
In the Open Men's section, there was an enthralling battle between father and son.
Dad Khan Butler, who has been attending the Māori nationals for over two decades was beaten by his son and rising surf star Kehu Butler, who took home both the Under 18 Boys and Open Men's titles.  The younger Butler won the final heat over Chris Malone (Te Aitanga a Mahaki) who finished runner-up, local Jayson Zimmerman (Te Ātiawa) who came in third, and father Khan (Ngai te Rangi) in fourth.
Kehu was delighted to win the title. "It was pretty cool to surf a final with Dad, he was giving me beef last night trying to put pressure on me but it didn't work out that way and I beat him in the final today. I'm feeling really grateful to be holding such an awesome taonga."
Local iwi and hosts Te Ātiawa took bragging rights in the Clash of the Iwi title, and will also host the event next year.