Kaivolution's food rescue supports Hamilton students
|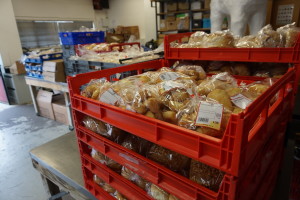 Hamilton's food rescue programme, Kaivolution, has been extending community support to students in need.
Waikato Environment Centre's Tania Ashman said their programme had teamed up with a tertiary education provider, ATC Train Me, to provide fruit and buns to students to help keep them focused in class.
ATC Train Me uses food received from Kaivolution in their breakfast preparation for the students in the institution where student ages range from 18-40. The initiative has improved student attendance.
However, community support does not stop there for Kaivolution. Being a tertiary institution,  ATC Train Me provides support to students who wish to gain work experience alongside their studies by volunteering in Kaivolution's busy operations.
Aside from ATC Train Me, Kaivolution has been sharing fruit with children with special needs at Patricia Avenue School and students at the Boxing Academy.
Kaivolution works with main food retailers and producers to collect excess products and save them from the landfill. This type of programme started in New Zealand from Wellington's Kaibosh.
To date, a number of communities all around New Zealand have embraced the food rescue movement and have created these organisations:
Fairfood, Auckland
KiwiHarvest, Auckland
Good Neighbor, Tauranga
Love Soup, Tokoroa
Waiwaste, Masterton
Just Zilch, Palmerston North
The Salvation Army, Wellington
Kaibosh, Wellington
0800 HUNGRY, Christchurch
FoodShare, Dunedin
With the increasing awareness on food wastage, food retailers are also giving out their much-needed community support in the programme. One of the main retailers in New Zealand, Countdown, has asked their branches nationwide to participate in food rescue.
Kaivolution is more than welcome to take in more volunteers. Visit the website and Facebook page for activities and events.
Check other features about Waikato Environment Centre's programmes here: