What allows you to Stay Driven?
|
What allows you to stay driven? For Jasmine Abel it's sharing her passion and drive, with the hope she can inspire and motivate others to reach their goals.
That is why Jasmine started her own company, Stay Driven, late last year. She realised there was no "one-destination automotive blog" as she called it – one that not only focused on cars but also had a motivational twist.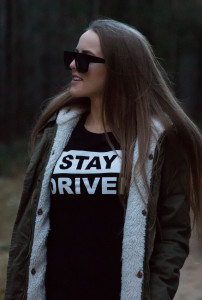 Jasmine uses her love of cars, interior design and photography to help people find their passions to keep them driven.
Apart from Stay Driven, Jasmine has worked for The Interior Design Institute in Sydney for more than four years. She is the Student Support Officer and also manages their social media accounts and their design/creative work.
While her blog has drawn inspiration from many people, one of her main inspirations is Australian entrepreneur and author Lisa Messenger.
"Lisa has always been a huge inspiration to me," Jasmine said. "Reading her magazines has really inspired me to keep chasing my dreams."
Stay Driven is Jasmine's way to not only motivate others but to also inspire and keep herself driven.
She uses a range of platforms to reach an audience: her website (staydriven.com.au), Instagram, Snapchat, Tumblr and Facebook.
She said it is a challenging time managing her own company.
Jasmine has  learned never to give up. In September 2013, she went to a health food store with a workmate. She ended up getting food poisoning which still affects her diet. But she doesn't let it get her down. She said "Always back yourself. Understand there is no OFF button. You are on ALL the time."
Jasmine would love to continue Stay Driven. She hopes to build a positive community and platform where everyone strives to motivate not only themselves but others too.