Beautifying Christchurch's empty gaps
|
A co-founder and director of Christchurch regeneration initiative, Gap Filler, wants her ideas installed in Hamilton.
Coralie Winn is  the mastermind behind temporary projects, built by everyday people, on building sites cleared after the earthquakes.
The installations gained a strong following when they popped up in vacant spaces all over Christchurch.
One popular project was a cycle-powered cinema. Another was the Pallet Pavilion, built from 3000 wooden pallets by 250 people.
It needed a lot of maintenance, requiring power and 24/7 security for fear of arsonists.
"It was massive, it could hold 200 people. It was the biggest project we've ever done."
A future project is The Retro Sports Facility which is a spin on the government's Metro Sports Facility project for Christchurch.
"That's going to involve retro style sports. People like sport and it brings communities together…in some ways sport clubs are often a stand in for the church."
But to Winn, her ideas are nothing special.
"It's not rocket science. We're there to use the space while it's doing nothing. It's a part of the cycle," she said of her 3-year-old initiative.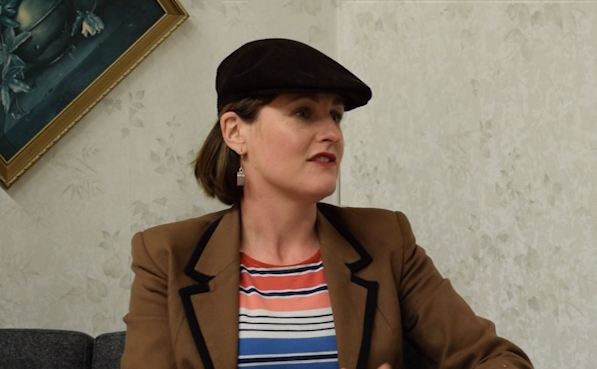 Speaking at Spark, Winn said at first the idea was a response to the September 2010 earthquake, where she was made redundant following the damage to the stone university buildings she worked in as an artist.
"Then after the February [2011] quake it just expanded because the situation was amplified so much."
Winn lost her home (and her beloved bicycle) in the second earthquake.
It would have been too much if both had happened at once, and she said she probably would have left Christchurch.
Luckily, she didn't. Gap Filler became the agent of trauma recovery for many, and it met the needs of the city.
At the very beginning it was used to supply some fun for the people of Christchurch in such a serious time, and through helping create each project, reconnect them with the city.
Winn said everyday people creating local projects is similar to home brewing beer. People feel more attached to things they are personally involved with.
"You can just go to the supermarket and buy a beer – but it means more if you make it yourself."
But Gap Filler has grown up since then.
Now it's also about how we approach unused spaces; spaces that can give entrepreneurs, who might not have the money to rent a standard building normally, an opportunity to experiment.
"That's the crux of Gap Filler. We can use these spaces in new and interesting ways."
She hopes the practice becomes normal in Christchurch, as well as cities like Hamilton.
She noticed many vacant spaces within Hamilton city and would consider discussing her ideas with the Hamilton City Council.
While Winn is unsure how much longer Gap Filler will exist, she does know it will continue to change.
"Christchurch is not the same as it was in 2011, and Gap Filler isn't the same."
"On a good day I feel hopeful [for Christchurch], and on a bad day I feel pretty cynical and depressed.
I'd just like to hope it doesn't lose its great sense of community connectedness, because we have that at the moment."