Dio girls go for the Maadi triple
|
Auckland Diocesan School for Girls rowers Jessica Doughty and Savannah Walker had a busier Maadi Cup than most.
Both girls were competing across three different events over the week, meaning three separate races each day with only around an hour's break between.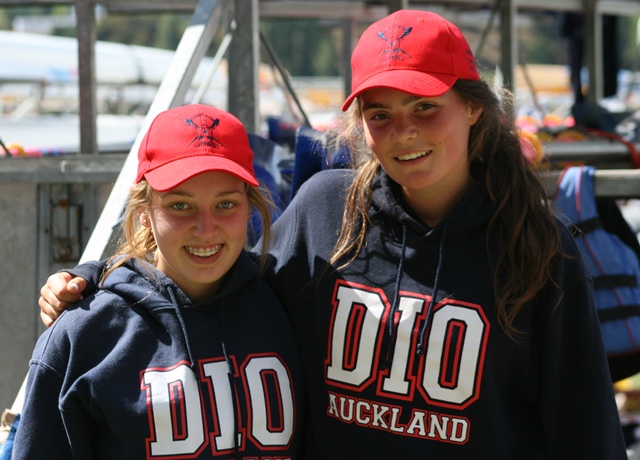 If you think that sounds like a tiring experience you would be right, and the girls are quick to point out that the feat requires plenty of preparation.
"It's quite tiring…we have to have the right nutrition, eating two hours before, an hour before and then straight after and we have a physio up in the lodge," said Jessica.
Jessica and Savannah competed in the girls' under-16 quad, under-16 eight and under-17 eight.
Both have a preference for the under-16 quad event and said that they would like to focus their attention solely on the event but the school encouraged them to compete in multiple events.
"Yeah (it would be nice to do just the quads) but it's good for the club to have more."
The schools under-16 coach Cameron Smith said that there were challenges associated with entering the girls in multiple events but felt that it gave them the best chance of success.
"More chance in different places… it's easier to do quads and eights for when we are at training so its easy to race them as well.
"It's a quick turnaround," he said. "It's just them being busted from the first race and then going into the second race…we try not to worry about it and just train hard."
Smith pointed out to the fact that the girls were both physically capable of handling the high workload that comes with rowing in three events.
"They are a bit stronger and a bit more resilient. If we drop them down (in age group) they are more likely to have a bit more of a go than anyone else."
In the end Jessica and Savannah failed to qualify for the finals in any of their three events, but both finished their week in good health which is more than can be said for one of their schools fellow rowers.
"We had one girl who did need to go to the hospital tent…she hadn't had enough water or enough food for the day…you've got to keep an eye on them."