Southland Girls determined to make finals
|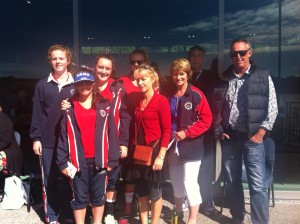 Invercargill's Southland Girls High School rowers are under pressure to make the finals this year.
"To come to Maadi in the North Island, we have the expectations that they make it to finals, because otherwise it just isn't worth it," said Sarah Redpath, teacher in charge of rowing.
The girls at SGHS go through clubs, so they only have two regattas in Invercargill, the rest of the time, they row in their club.
Michaela Townshend, 15, is competing in the under 16 singles and under 16 quads. She said they have been training 2-3 hours every day. After placing second and third in their races they are onto the quarter finals. "I hope we do well," said Michaela.
Rianna Maxwell, 14, is competing in the under 16 quads and under 15 doubles. "We came in second in our doubles and third in our quads," said Rianna.
Their cox for their team is Eden Cross who is 14.
"I enjoy it, it is really fun," said Eden. "I tell the girls where they are in the course, and what place they are in, and who is in front and behind them."
SGHS also has a novice on their team, Georgia Smith, who is 15. She has been rowing for six months, and is currently competing in the under 15 doubles, and under 16 quad.
"I am hoping we make it to the semi-finals, we got second in doubles and third in quads," said Smith, "I am nervous for the doubles, but not really for the quads."
Maadi is an expensive outing for SGHS. Every rower spends around $1500 , which includes accommodation, flights, food and entry into the competition.
Alan Maxwell, father of Rianna, said it cost him "a couple of grand" to get his daughter to the Maadi Cup.
The team are staying at the Maungatautari Lodge, because it was too late to book in with the campground.
"We only found out after the South Island champs that we would be going to the Maadi Cup," said Maxwell. "We are very lucky to get accommodation at short notice."