Chiefs Cheerleaders form dance group
|
After being dumped by the Chiefs Super Rugby franchise last season, Waikato's cheerleaders have been given another chance to form a dance group thanks to Hamilton modelling agency Nouveau Management.
Performing as a dance group on behalf of Nouveau Management, the girls' next gig will be cheering for New Zealand's basketball team the Breakers on September 15.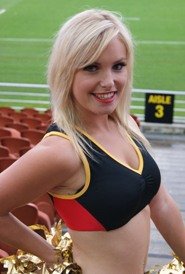 Waikato Rugby Union, a separate organisation from the Chiefs franchise, has not had cheerleaders for about two years.
Marketing and Events manager for Waikato Rugby Union, Paul Shattock said the union discontinued cheerleaders due to the expense, saying the group was not in line with the ITM Cup brand.
However, Waikato Rugby Union last year had promotional cowgirls who were also present at this year's ITM cup.
Nouveau Management, who founded the cowgirls, has seen a demand for cheerleaders and already had a small group of dancers who dance at corporate events with a band called Monroes.
Founder of Nouveau Management, Natalie Sangster says the Breakers game came at the right time, providing an opportunity for the cheer girls to continue dancing and doing what they enjoy.
"I have been wanting to work with a larger group of dancers for a while."
The Chiefs cheerleaders were also told they wouldn't be needed at the National Agricultural Fieldays earlier this year, where they are known as Suzuki girls.
The Fieldays rebuff came after the Chiefs  overlooked the Cheerleaders to provide half time entertainment this year.
Attempts to contact Marketing and Promotion Executive at the Chiefs Super Rugby Franchise, Stacey Addenbroke, were unsuccessful.