Jack's Coffee Lounge
1/31 Cambridge Road
Hamilton East
All work and no play makes Jack a dull boy, so they say, and if it's possible for this proverb to cross over into café-metaphor-land, then someone needs to start bringing the laughs to this place.
Jack's is a staple in Ham East. It's been around for ages and has built up a steady set of regulars and nothing I say here is going to change any of that. But really, honestly, Grace on Braid's brother café requires a gentle poke in the ribs.
My friend and I pop down the road for a mid-morning coffee chat and are met by tables situated in the late winter sun. The woman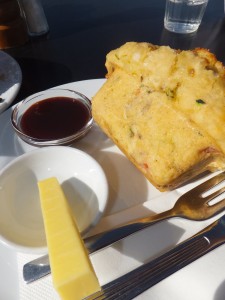 behind the counter smiles, which is always a bonus, and when we sit down another staff member quickly comes to check that our table, which has just been moved, isn't wobbly.
We order a vegetarian savoury muffin, $4.50 (capsicum, tomato, sunflower seeds, topped with cheese) and a sweet muffin, $5, (black doris plum and white chocolate) to share. The former comes with a lovely tart plum sauce and butter, the latter with yogurt and honey.
The muffins themselves are okay. They're not dry, they're not stale, but neither has any flavour other than the chunks of white chocolate buttons speckled through the sweet one. A bit of cheese mixed into the savoury muffin may have helped things along, but when you're charging $4.50-$5 for a medium-sized muffin, you need to make it bang my mouth. These muffins don't bang, they quietly knock before giving up and meekly excusing themselves down my oesophagus.
The coffee follows suit. My long black, $3, is drinkable but not memorable. Again, it's bland and lacks the body and pizazz of a truly fine espresso. My friend's soy chai latte is hot and the milk comes out smooth, but she can only faintly taste chai over the soy milk.
In the past, I've had grouchy service here and today's staff are a solid improvement over past experiences. Otherwise, the food is nice but high prices mean one expects more from what is actually very meek fare. Kudos to Jack's for the nice outdoor seating and occasional smile, boos for boring food and coffee that tastes like it's on Prozac.
3 stars