Bowling on – a long and good life
|
There is simply no way the face could be 102 years old – but it is. The eyes are bright, home to a cheeky twinkle and the voice clear but it's the memory, not the lack of it, which sets Geoff Howlett apart – he has a story or two up his sleeves.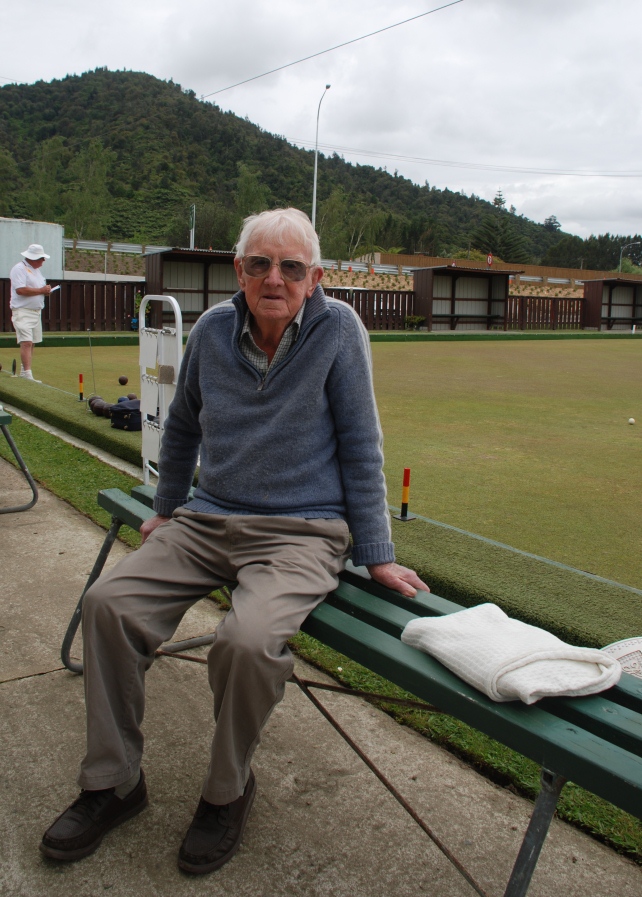 Sixth of 10 children and born in Auckland on September 11, 1909 there is a good chance Geoff is the oldest active bowler in New Zealand. He only gave away skipping at the age of 98, with the excuse he was slowing up a bit.
Club members say he plays a mean bowl and the honours board confirms this. He still plays a full season's worth at Taupiri, located between Huntly and Ngaruawahia. Nowadays he has a little seat to sit on when he's waiting his turn to play.
"I can't stand for too long these days," he says.
Geoff's a modest man who, on the balance of things, has had a good life. He lives now with family in Hamilton. His loyalty to Taupiri Bowling Club is unstinting – he's been a member for more than 40 years.
For the first eight years of his long life his dad worked as a printer for the Auckland Star. When he got a job in the printing works at the back of Bonds Bookshop in Hamilton the family moved to Hamilton.
Young Geoff attended Hamilton East School then did a year at Hamilton Technical College. Life took a turn when a polio outbreak closed all the schools indefinitely causing his father to state one day that the lad "better get a job". Geoff was 13 or 14 at the time.
His first job was with a dentist making false teeth but when his boss offered Geoff work cultivating his dairy farm at Tahuna he jumped at the chance. It meant he could work with horses.
"I just love horses, always have," he says quietly.
Working with a team of six harrowing the land was like being in heaven, except it was tough on the feet. When they finally gave out he built a sled so the horses could pull him along.
"I only weighed about nine stone, so they wouldn't have even known I was behind them," he says grinning.
By the age of 15 or 16 he worked as a shepherd on a farm at Onewhero, near Tuakau. They also broke in horses at the farm. Geoff was in his element.
In his early 30s he worked on a 240 acre property where Chartwell suburb in Hamilton now is.
"We had boner-cows, as many as 3000. They got sent up to Westfield Freezing Company."
By the time World War II burst into his life the farm was listed under the 'Meat for Britain' scheme. Itching to enlist, Geoff had to wait until 1942 because he was needed on the farm. When he eventually got involved he was posted to Mono Island, part of the Treasury Islands group south of Guadalcanal in the Western Pacific.
Geoff married his first wife Ann Olsson just before heading off to the island, where he says he spent "four tedious years doing a lot of one-step-two".
Earlier, in 1936, Geoff had begun what was to become a distinguished career playing polo. He represented New Zealand in 1954 winning the Gold Cup in Australia and was a top-class player until retiring at the age of 59. Even then, it wasn't age that caused his decision to stop playing.
"In polo you're always breaking-in young horses and I didn't want to do that any more, so I stopped."
Not one to sit idle and with spare time on his hands Geoff began playing bowls. He was introduced to the sport through a horse-groomer he knew. Again he excelled, winning his first singles tournament soon after joining at Taupiri.
"I played indoor bowls during winter and outdoor bowls in summer, as many did."
Taupiri is your typical small rural bowling club. Warm and friendly bowlers welcome you with a cuppa and members are happy to chat away about the club they're clearly proud of. It has 'thirty something' mostly active bowlers and one green. Just over the fence major road works, part of the Waikato Expressway, are causing the traffic to back-up. Bowlers are oblivious to the noise and disturbance as they concentrate on their games.
Taupiri draws its championship events, something club president Vic Hitchman sees as a real positive not only for inexperienced bowlers but also for the club.
"Everyone gets the chance to be drawn into teams. In some clubs you get the same bowlers playing together in teams for years. It's not good for the future of the club, we need to bring new ones on," he says.
On the day Geoff shares stories of his life he isn't needed to help mark a game so with the talking all done, and having promised this reporter he would challenge her to a game of bowls one day soon, he returns to quietly watching the play.
Maybe, just maybe as he sits there looking on, one or two memories stirred up by the talking of a long and good life, are being quietly settled.