Tsunami survivor sews on
|
On a crisp spring morning, a Hamilton woman is at work in the clothing factory she has set up in her garage. Her talent is clearly visible as she irons vibrant dress panels and stitches beautiful fabrics.
While busy sewing and altering, Samoan-born Dot Hunter takes time to reflect on the past two years, which have proved challenging for her and husband Geoff.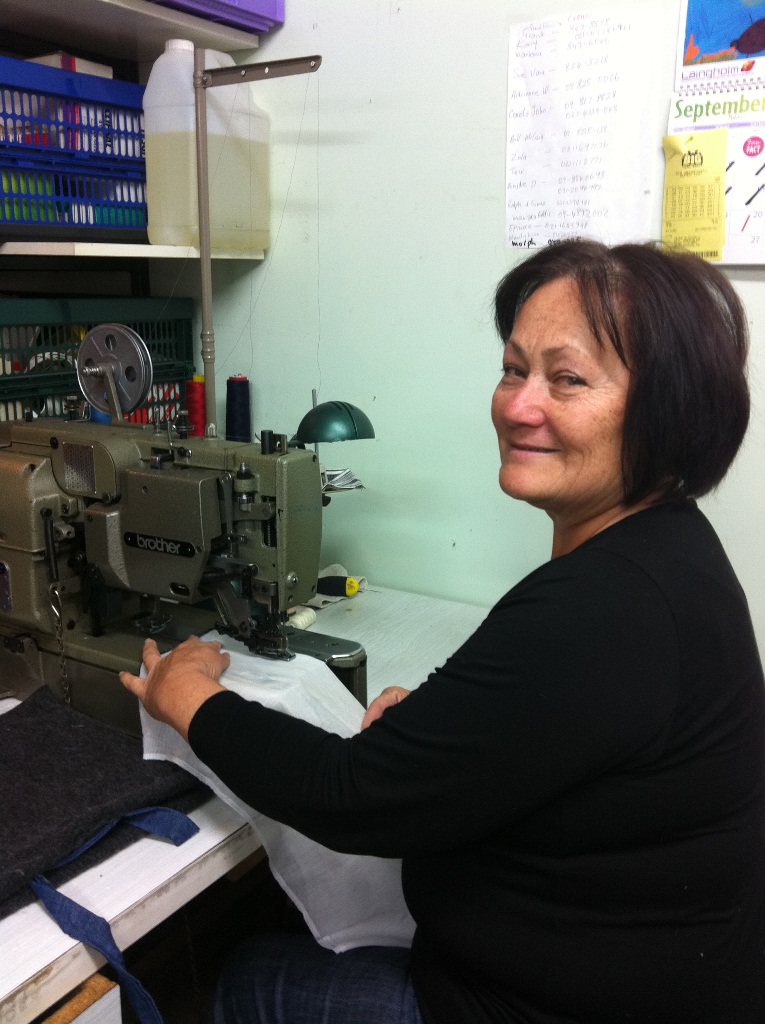 After moving back to Samoa in May 2008 to restart her clothing business, Baseline, Mrs Hunter and her husband spent the year in the lead up to the tsunami renovating an old water-front building which would be transformed into a store for Mrs Hunter's company.
When the tsunami swept through the island two year ago, the store was destroyed along with Mrs Hunter's sewing machines and fabrics.
"Both Geoff and I were at our house, which is inland, when the tsunami hit. I couldn't comprehend what the damage would look like but when we drove to the shop, it was demolished," says Mrs Hunter.
Mrs Hunter had just returned home from a walk the morning the tsunami struck and was planning on visiting the shop to let in some of the workers who were involved in the renovations.
"Everything started shaking so I yelled out to Geoff that there was an earthquake. We ran outside. A neighbour and I drove up one of the mountains and we sat watching the waves coming in."
Seeing the demolished shop was devastating.
"It really broke my heart. I just couldn't believe what had happened. But I realized I couldn't cry for these things when people had died,
"I just had to forget about it. It was over now. What was done was done."
The Hunters remained in Samoa for over a year, where Mr Hunter continued working as an electrician.
Although Mrs Hunter's dream had gone, her spirit had not, and she continued sewing clothes for close friends and family.
Upon returning to New Zealand, Mrs Hunter decided to put the devastation of losing her shop behind her and started up a home-based business, Baseline Alterations, in her Hamilton home.
Mrs Hunter has been making and altering clothes since she was young and credits her mother's love for sewing and the fact her two uncles were professional tailors, for her own interest in the art.
"Growing up in Samoa, my mum would make me a dress and I would unpick her sewing. I was only about 12 and I was altering," says Mrs Hunter.
Mrs Hunter immigrated to New Zealand when she was 18 and when she married she decided to pursue her love for sewing by opening her own factory.
"I opened Dot Clothing in Frankton and was there for 10 years. I then found a little place down Tuikaramea Road and started Baseline where I sewed everything – right up to ski gear."
Mrs Hunter would like to return to Samoa one day, but in the meantime is happy working at home and says it is important to bounce back.
"I'm back into it now and enjoying it. It's no good sitting and thinking, 'I wish I didn't do it.' Life goes on, you must move on. And I'm happy."