Yachtswomen battle massive waves in round North Island race
|
Marlburian Jo Ivory looks back on the 2011 Round the North Island yacht race with a deep sense of achievement and intense pride.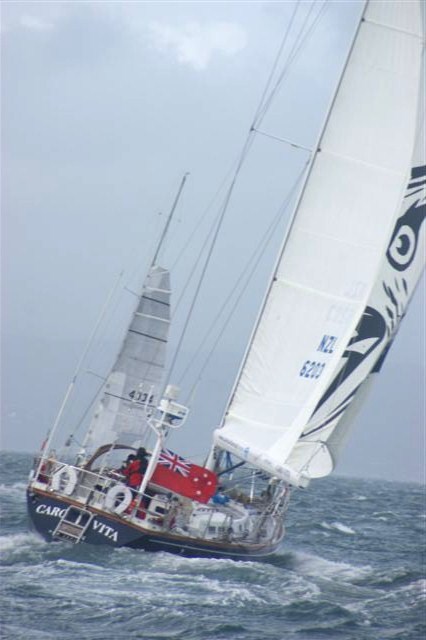 New Zealand sailing legend Sir Peter Blake first started the race in 1978 and Mrs Ivory and her yachting partner Stephy Waanders are only the second women's team to enter.
Mrs Ivory has been boating her whole life and says when she started yachting 30 years ago, she was a natural.
"This is what I was born for," she says.
In what is a heavily male-dominated sport, she has been dubbed "token bloke" on boats where no excuses are made for females.
After having two children and operating an orchard, she is now living the dream and skippers her own chartered tours from Picton.
Her boat Caro-Vita is a Warwick 53 and was one of the heaviest in the race. It was re-named the Flying Moa for the race, after one of her sponsors, the Moa brewery.
On the west coast, where they ran into tough conditions, Mrs Ivory says it was small comfort having a big boat.
"We were incredibly exhausted, in massive seas and basically falling off the waves, only to have another crash over us. Hearing the stress in other crews' voices over the radio, reporting lost rigs and water on board, was really scary."
Her partner Steffi Waanders wanted to retire, so they hove to in New Plymouth and had a brew.
After a hilarious incident with hard boiled eggs, the women felt revived enough to pluck up their courage and continue.
During those rough conditions Mrs Ivory says it was their faith in all the amazing people and sponsors that kept them going.
She attributes their stamina to Le Café in Picton who supplied all their food.
"Other crews were eating just-add-water meals, while we were eating gourmet," she said. The ladies also sipped on Clos Marguerite Pinot Noir to ease the nerves.
It took two and half week for the journey. Mrs Ivory said the conditions made it the toughest race in its history.
Only 18 boats completed the race – a real achievement, considering that 38 of New Zealand's top sailors and boats were at the starting line in Auckland.
"I would love to do it again in conditions more favourable to Caro Vita," she said.