Martyn 'Bomber' Bradbury Wintec's new editor-in-residence
|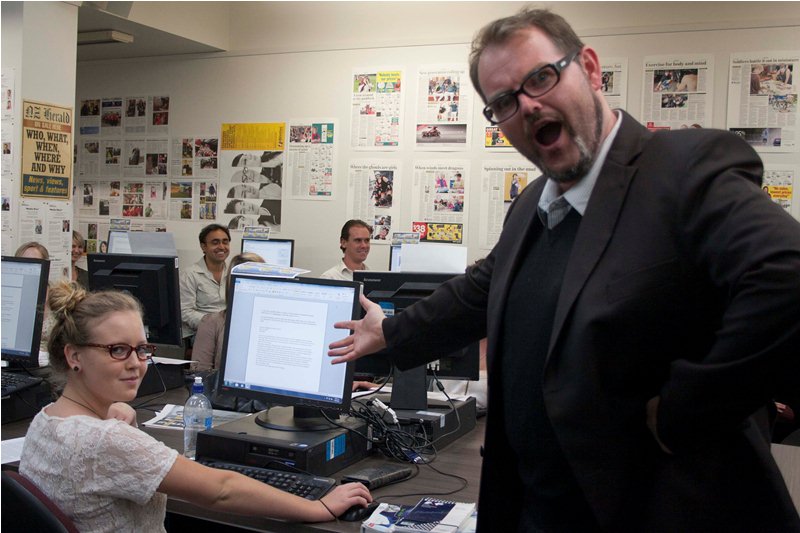 Newly appointed Wintec editor-in-residence, media man Martyn 'Bomber' Bradbury, is leaping into his role as mentor and advisor to this year's journalism and communication students.
A noted political blogger and self-described media junkie, Bomber has been making a career in the industry for 20 years.
Wintec's Head of School of Media Arts, Margi Moore, said Bomber could be seen as an unusual editor-in-residence but his experience in alternative New Zealand media has given him a unique view of the industry as well as the ability to teach others.
He started his career in Auckland student magazine Craccum, eventually working his way up to editor. It wasn't the smoothest run. At one point, after writing a satirical piece on the construction of nuclear bombs, Bradbury was hauled into the police station and held for questioning.
Bomber has hosted a night show on radio station Channel Z, was an executive producer on television network AltTV and editor of music magazine Rip It Up.
He currently hosts two news shows on Stratos TV, runs the blog Tumeke along with Tim Selwyn and can sometimes be heard on Radio NZ.
Bomber started his term at Wintec by addressing a group of students about the media and gave tips on how to survive in a rapidly changing industry.
His most urgent advice: get a blog going, sort yourself out some business cards and jump in with both feet. That's the only way to make an impact in this contracting, cost-slashing business.
He predicted this is the year social media will become the most important tool in the journalist's kit, especially in the upcoming election, and urged the students to get onto every form of social media to get involved in that debate.
"You have power through the internet to influence mainstream opinion. You should be using it to provide information and a different viewpoint for readers."
As part of Bradbury's post he will be organising Wintec's very popular Media Bites, a series of seminars that host media personalities from New Zealand. It was through attending a Media Bites event last year that Bradbury decided to apply for the editor-in-residence post.